WHAT IS OMT?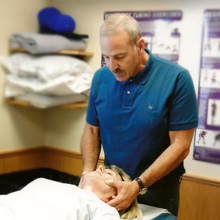 Osteopathic Manipulative Treatment (OMT) is incorporated in the training and practice of Osteopathic Physicians.
Using OMT, D.O.s bring an added dimension to healthcare, in the form of a non-invasive treatment. D.O.s use OMT to diagnose, treat and even prevent illness or injury. When appropriate it can be used in conjunction, with, or even in place of, medication or surgery.
By incorporating OMT into their practice of complete medicine, D.O.s are providing the most comprehensive care available today.
OSTEOPATHIC MEDICINE
A Unique Philosophy of Care
D.O.s are widely recognized for their incorporation of manipulative medicine into their spectrum of care. OMT is just one element of the unique philosophy of osteopathic medicine.
The Big Picture
By taking the whole person approach to care, D.O.s don't just focus on the disease or injury. They look for the underlying causes of disease instead of simply treating the symptoms. Not only do they consider your physical condition, but they also take other factors into account like home, work, nutrition and family life when making a diagnosis.
Patient, Heal Thyself
D.O.s recognize that the body is inherently capable of healing itself, though it must constantly fight physical, emotional and nutritional "stressors" to maintain a state of wellness. D.O.s believe in educating you abut good health and prevention of disease.
Who Can Benefit from OMT
People of all ages and background have found relief from pain and dysfunction as well as improved mobility through OMT. D.O.s Incorporate the modality into their treatment plans for top athletes and performance artists, workers with on-the-job injuries and thousands of people, just like you.
The ABC's of OMT and How It Can Work for You
OMT is predicated upon your D.O.'s knowledge of medicine. Once your D.O. has ruled out mechanical causes for your illness or injury (through blood and urine testing, X-rays, etc.), and based upon physical and mechanical findings, your D.O. may decide to utilize OMT. While it is commonly associated with physical ailments such as low back pain, this modality can also be used to relieve the discomfort or musculoskeletal abnormality associated with a number of disorders, including: asthma, sinus disorder, carpal tunnel, migraines and menstrual pain.
The osteopathic approach to treating many diseases includes medication and/or surgical intervention, plus OMT. OMT can relieve muscle pain associated with a disease and can hasten your recovery from illness by promoting blood flow through tissues.
YOUR STRUCTURAL EXAM
Diagnosis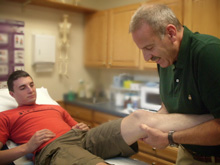 Your structural exam will begin with an assessment of your posture, spine and balance. Your D.O. will then use his fingers to palpate your back and extremities. He will also check your joints for restriction and/or pain during motion as well as check your muscles, tendons and ligaments where tenderness can signal a problem. Through extensive osteopathic training in manipulative medicine, D.O.s can detect changes in tissue, however small, that signal injury or impairment.
Once the structural exam is complete, your D.O. will integrate this information with your medical history and a complete physical exam. After that point, a treatment plan can be established.
Treatment
Using a variety of OMT techniques, your D.O. will apply manual forces to your body's affected areas to treat structural abnormalities and will then apply specific corrective forces to relieve joint restrictions and misalignments. Based upon the severity of your problem, you may require more than one treatment.
By combining all other medical procedures with OMT, D.O.'s offer their patients the most comprehensive care available in medicine today
A History of Hands-On Healing
The earliest medical writings from centuries past describe the efficacy of manual medicine. In 1874, osteopathic medicine's founder, Dr. A.T. Still, recognized the power of hands-on-care and incorporated it into his philosophy of medicine. Dr Still identified the musculoskeletal system as a key element of health; he recognized the body's self-healing capacity; he emphasized prevention, exercise and keeping fit; and he identified palpation and human touch as vital and less intrusive elements of diagnosis and treatment. As the impressive growth of osteopathic medicine demonstrates, Dr. Still's founding tenets have withstood the test of time and scientific scrutiny.