Services
Musculoskeletal
Ultrasound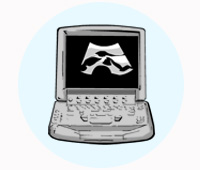 MSK Ultrasound is now being used to visualize:
Ligaments
Tendons
Muscle
Bone
Fluid in joints
MSK Ultrasound has many advantages over x-ray and MRI:
It is an office procedure
No major safety issues (no ionizing radiation)
More sensitive than plain radiology
As sensitive as MRI for erosions and synovitis
Allows more accurate injections and for joint aspirations (removal of fluid) in some instances
It is dynamic and allows movement and real-time evaluation
Some ultrasound images performed by Dr. Speciale:

1. Needle guided ultrasound Prolotherapy injection of the shoulder supraspinatus tendon

2. Fluid of the knee joint (black) under ultrasound

3. Ultrasound-guided needle into the synovial fluid of the knee joint (note the white needle into the black space)

4. Knee joint post aspiration reveals fluid totally removed.
MSK Ultrasound will never replace a good history and physical examination. What MSK Ultrasound will do is add another tool to improve patient responses to treatment in some cases. Dr. Tim Speciale is trained in MSK Ultrasound and utilizes MSK Ultasound as another modality to further aid in the patient' overall outcome to diagnosis and treatment.
Return to Services »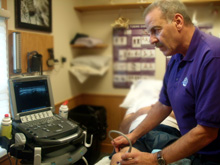 Dr. Speciale performing Musculoskeletal Ultrasound on his patient.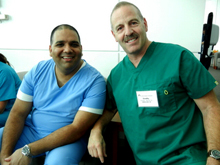 Dr. Tim Speciale with Dr. Sajid Surve (Head of the Ultrasound Guided Injection Conference) at the New Jersey Medical School, Statford, NJ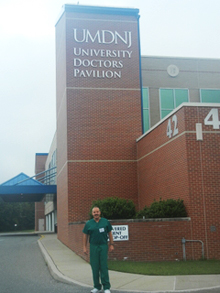 Dr. Tim Speciale outside the Medical School in Statford, NJ